Auto Glass Services

Auto Glass Windshield Replacement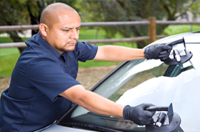 We'll come to you or you can come to our shop for the best windshield replacement or repair services you'll find anywhere in Texas. Use our mobile auto glass windshield replacement services at your home or office or schedule an appointment to come see us at our conveniently located shop in Fort Worth.
We can also replace or repair any glass on your vehicle, including side mirrors, door windows and rear windows. We'll stop wind noise or water leaks, repair off-track door windows, and repair door regulators. Call us at (817) 246-3001 for information and a price quote.
A- 1 Auto Glass is approved by all major insurance companies and we will even process the insurance paperwork for you!
When replacing your windshield we follow the highest safety standards. We use only top quality replacement windshields that are the best on the market. We install windshields and side glass windows properly to ensure your safety and proper air bag deployment. Our auto glass technicians are certified auto glass experts and are dedicated to providing you the finest auto glass services you'll find anywhere!
A-1 Auto Glass has been providing windshield replacement services to Fort Worth area residents and fleet operators since 1993. We'd love to help you. Call us now for more information and to schedule windshield replacement services with us. Call (817) 246-3001.
Auto Glass Repair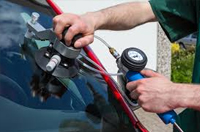 We repair auto glass chips, cracks or imperfections. At A-1 Auto Glass, our knowledgeable and skilled technicians quickly repair your auto glass to the highest standards of safety and quality.
Here's why you should contact us for your auto glass repair needs:
Approved by all major insurance companies. We'll even handle the claims process on your behalf.
Mobile auto glass repair. We'll repair your glass at your home or office anywhere in the Fort Worth area.
Lifetime warranty. We stand behind all repairs with a lifetime warranty, good for as long as you own your vehicle.
Satisfaction guaranteed. Our advanced process injects a resin blend into the damaged area. We guarantee your full satisfaction.
Outstanding service. We've helped more than 50,000 Texans with their auto glass needs since 1993 and we would be honored to work for you.
Call us at (817) 246-3001 for a price quote and to schedule service.