Fort Worth Auto Glass Repair & Replacement

Vehicle Glass Replacement in Ft. Worth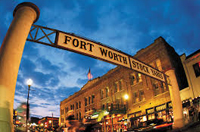 We provide vehicle glass replacement services in Fort Worth, including windshield replacement, back glass replacement, side glass replacement, and vehicle mirror glass replacement – if it has a motor and glass, we can handle the glass replacement!
We also do off-track door window repair and door regulator and motor replacement.
A-1 Auto Glass is an approved Fort Worth windshield replacement company by most major insurance companies. We'll process your insurance claims for you and you'll get a lifetime warranty good anywhere in the U.S. for as long as you own your vehicle.
Come to our auto glass shop in Fort Worth, or use our Fort Worth mobile auto glass service and have your windshield or other auto glass replaced at your home or office.
Our vehicle glass technicians will thoroughly inspect your windshield. They'll repair it or replace it with only the safest and finest materials and replacement glass. They'll do it safely, effectively and quickly, all backed by our 100% satisfaction guarantee.
A-1 Auto Glass has served more than 50,000 Texans since 1993. We'd love to help you. Call us now at 817-246-3001 or get a price quote using our online quote form.
Auto Glass Repair in Fort Worth
More than 50,000 people have turned to us for auto glass repair services in Fort Worth. Our customers trust us for honest advice, quality work, and affordable prices.
Come to our auto glass repair shop in Fort Worth or use our Fort Worth mobile glass repair service and we'll do your windshield glass repair or other auto glass repair at your home or office.
A-1 Auto Glass is approved by all major insurance companies and we guarantee your full satisfaction. We'll process the insurance claim for you and we're committed to helping you.
Our advanced resin blends are injected to correct small auto glass imperfections or rock chips. We eliminate the risks these cracks or imperfections pose to drivers or passengers.
Our auto glass technicians in Fort Worth are trained, certified, and committed to your total satisfaction. Trust them to get the job done right the first time in an efficient an affordable manner.
Call us at 817-246-3001 for pricing and repair scheduling or fill out our online form and one of our Fort Worth auto glass repair representatives will contact you.